Blazer Victory is not affiliated with the University of Alabama at Birmingham. Blazer Victory was first created by John Duncan as a podcast back in 2020 and is now also a website providing independent coverage of UAB sports.
In 2022, Darion Smith was added as a cohost of Blazer Victory and will also contribute on this site. In 2023, Jimmy Marion was also added as a cohost and will contribute to the site. Make sure to follow Blazer Victory on Twitter here. Here's a little bit about each of the guys:
John Duncan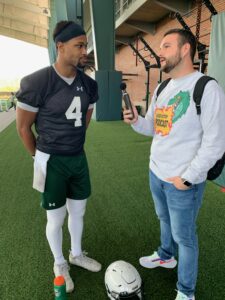 John Duncan first started Blazer Victory as a podcast back in 2020 with Steve Irvine. John is happily married to his wonderful wife Elizabeth and they have two beautiful kids: Nora and Noah. Outside of covering UAB, John enjoys music and loves collecting vinyl records. Follow John on Twitter here.
Darion Smith
Darion Smith joined Blazer Victory in 2022. He played football at UAB from 2010-2012 under head coach Neil Callaway. Darion is from Brookhaven, Mississippi and was recruited to UAB out of Copiah-Lincoln Junior College in Wesson, Mississippi. Darion was a two year starter at center for UAB, the team offensive MVP, and team captain. Darion was also placed on the Rimington Award Watch List which goes to the nation's best center. After UAB, he played in the Canadian Football League (CFL) with the Toronto Argonauts. Darion is happily married to his wife Shaniqua Smith and has four beautiful daughters: Tia, Azariah, Zoe, and Zhuri Smith. Follow Darion on Twitter here.
Jimmy Marion
Jimmy Marion is a life-long UAB fan and alum with a special interest in recruiting. Jimmy is also the newest contributor to the Blazer Victory team. Jimmy is a husband to Natalie, father to both Hatton & Hampton, and supporter of all things Birmingham. He is also the owner of the UABAthleticsFan Twitter account which you can follow here.