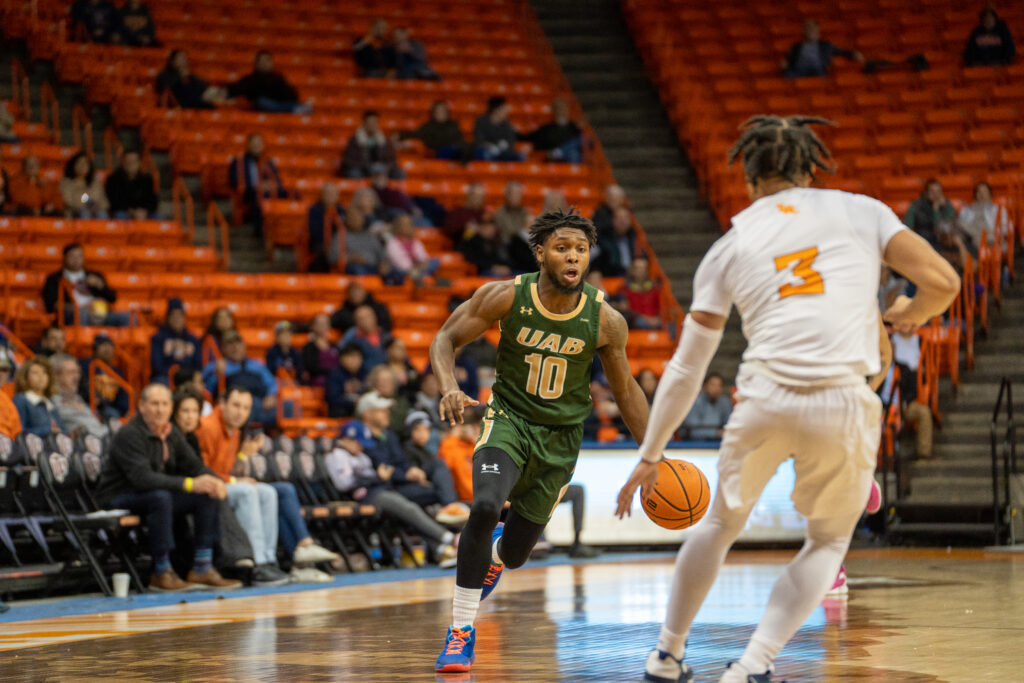 (Photo by UAB Athletics)
UAB comes into Thursday night's game against Rice winners of its last 3 games and 7 of its last 8 games. The Blazers are now 20-8 overall and 11-6 in Conference USA. Andy Kennedy has now gotten the Blazers to 20 wins or more for the third consecutive season. Last time out, the Blazers beat the UTSA Roadrunners 83-78 in a tight contest at the historic Convo Center in San Antonio. Jordan "Jelly" Walker led the way for the Blazers with 25 points and made some key shots late in the game despite playing with 4 personal fouls. Winning on the road in college basketball is never easy but UAB found a way to get two victories in a row in CUSA. Next the Blazers will return home to Bartow one last time for the regular season.
Thursday night will be a very emotional night in Bartow because it will be Senior night. This will be the last time Blazer nation will see a handful of guys play their final game at home in green and gold. One of those players is Jordan Walker who will go down as one of the best to ever wear a Blazer uniform. KJ Buffen, Trey Jemison, Tavin Lovan, Ledarrius Brewer, and Ty Brewer are the other seniors who will be playing their last regular season game in Bartow and they have certainly meant a great deal to this team as well. 
The Rice Owls will come to Bartow with an overall record of 17-10 and 8-8 in CUSA play. The Owls are coming off an 83-77 victory over the Western Kentucky Hilltoppers. 6' 3" Junior guard Quincy Olivari had a stellar performance leading the way for Rice with 34 points and also grabbing 12 rebounds. Olivari made 4/9 of his three pointers and was 12/13 from the free throw line.
Rice and UAB played once before a few weeks ago in Houston, TX where the Blazers blew out the Owls 70-52 in dominating fashion. UAB had one of its best defensive performances of the year holding Rice to just 19/57 shooting for 33.3%. The Owls only made 8/26 of its three point shots for 30.8%.This is very important to note because Rice currently leads Conference USA in team field goal percentage averaging at 47.5% per game. Can UAB limit the Owls again offensively this Thursday? What else do the Blazers need to do to get their fourth straight win? Lets go ahead and get into the three keys for a Blazer victory:
Defend Max Fiedler
This first key might surprise some Blazer fans because one would think that UAB would need to focus primarily on Rice's leading scorer, Quincy Olivari, this game. While Olivari is definitely a weapon for Rice (averages over 19 points per game), their offense really revolves around Fiedler. The 6' 11" Junior forward currently leads Conference USA in field goal percentage (72%), assists per game (5.1), and rebounds per game (8.1). In the first matchup UAB did a good job limiting Fiedler to just 8 points as he went 4/10 from the field. However, he was able to grab 12 rebounds against the Blazers. Fiedler can also be a threat on defense and was credited with 3 blocks in the first game between the two schools. Overall, UAB just needs to focus on not allowing Fiedler and the Owl offense to get rhythm. If the performance is similar to last time then the Blazers shouldn't have any issues.
Keep shooting the ball well
The second key is for UAB to keep shooting the ball well like they have recently. This is a major point because Rice is not a good team overall defensively. In fact, the Owls rank next to last in Conference USA in opponent's points per game giving up around 74.6 per game. UAB's last opponent, UTSA, is last in the conference giving up 75.3 points and the Blazers were able to get 90 and 83 respectively in both games against the Roadrunners. The first matchup against Rice in Houston, the Blazers struggled shooting the ball early on but towards the end of the first half and in the second half they got hot. KJ Buffen led the way with 20 points en route to getting named Conference USA player of the week. If the Blazers can continue their hot shooting and do not turn the ball over 20 times then Thursday night should bode well for UAB.
Defend the 3
This last key is crucial in order for UAB to beat the Owls a second time. This Rice team lives and dies by their three point shots and they certainly take a lot of them. The Owls rank second in Conference USA in average three point shots made per game at 9.1 per game (FAU ranks first making 9.7 per game). Through 27 games Rice has attempted 671 three pointers. In the first matchup, Rice was only 8/26 beyond the arc for 30.8%. The Owls have multiple players that can knock down the three so the Blazers will need to play good team defense again this Thursday to get the win.
Prediction: UAB 81 Rice 75