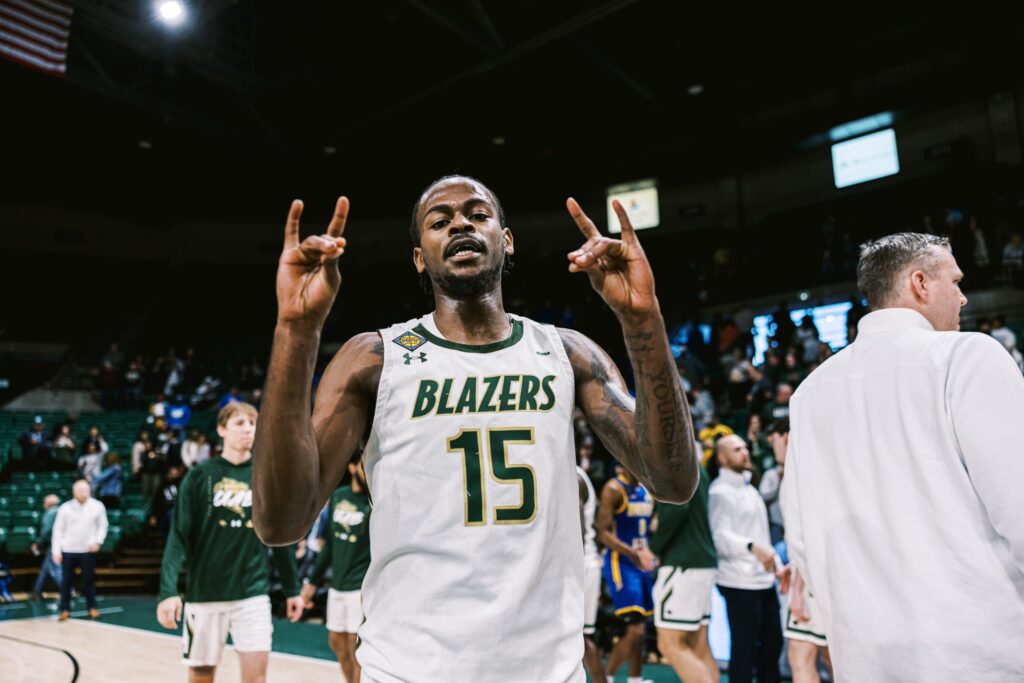 UAB dominated inside as the Blazers defeated Morehead State 77-59 Sunday afternoon in Bartow Arena in the second round of the National Invitation Tournament (NIT). The Blazers have now won 14 of its last 16 games and improved their overall record to 27-9 on the season. UAB never trailed the Eagles, leading for the majority of the game (39 minutes and 24 seconds) and led by as many as 22 points.
UAB was very efficient on offense again Sunday afternoon connecting on 33/66 of its shots for 50% for the game. The Blazers also took care of the basketball, only turning the ball over 6 times for the game. UAB was able to out-rebound the Eagles 44-30 overall and 11-7 on the offensive glass. The Blazers were able to take advantage of some of those 11 offensive rebounds and convert them to 15 second chance points.
UAB dominated points in the paint outscoring Morehead State 40-30. Trey Jemison was able to grab a double-double on 11 points and 16 rebounds. Jemison was also 5/7 from the field and played a big part in why the Blazers were able to dominate the Eagles.
Although Jemison was terrific, the performance of the day has to go to Ty Brewer who had a season-high 25 points in Sunday's game and was very close to grabbing a double-double with 9 rebounds. Late in the game Brewer had two opportunities to grab a late rebound but barely missed.
The Blazers played really well on defense and never allowed a good shooting Morehead State team to get any rhythm going on offense. UAB held the Eagles to converting just 23/62 field goals for 37% and only gave up 7/33 three-point shots for 21%.
Andy Kennedy spoke with the media about Ty Brewer's performance: "I'm looking at Morehead and they're small in their backcourt positions and I knew that we would have an advantage if we could get it to him in the box early so that's why I did what I did. And boy did he respond; terrific. He really played well offensively."
Ty Brewer spoke to the media about his special performance in Bartow: "It felt good because I was not expecting the crowd to come out tonight like that. So for me to be able to put on the performance the way I did in front of them it meant a lot. Because I know they're coming out for us and glad that I could make them happy."
Next up for the Blazers will be a trip up to Nashville to take on the Vanderbilt Commodores in Memorial Gymnasium on Wednesday evening in the quarterfinals of the NIT. The winner of that game will move on to the semi-finals in Las Vegas. UAB is currently 2-0 against teams in the Southeastern Conference (SEC) this season defeating both Georgia and South Carolina. Can Andy Kennedy and the Blazers make it 3-0? Blazer fans will have to wait a few more days to find out.