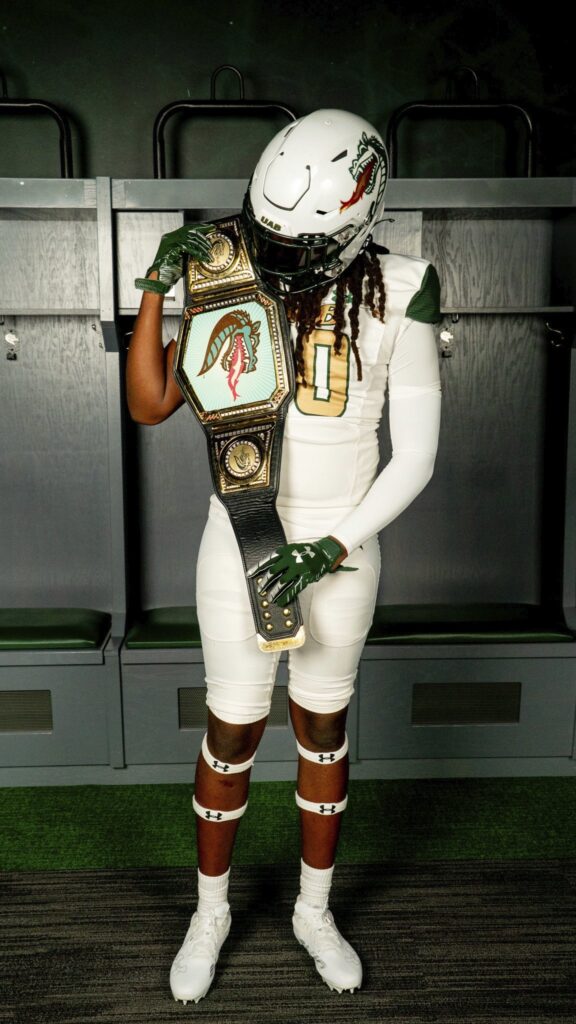 BIRMINGHAM – For the second time this recruiting cycle, the UAB coaching staff secured a verbal commitment from the state of Florida. Joseph Doston, a 6'4" 230 pound defensive end from Tampa Catholic High School, announced his decision earlier today on social media.
Joseph Doston announced his commitment on Twitter:
The long and athletic edge rusher was one of a group of top prospects that took an official visit to the Southside the weekend of June 24th. Other known visitors include:
• Myles Cook, 6'4" 240 DL from Bob Jones High (AL)
• Jaden Ligon, 6'5" 315 OL from Lagrange High (GA) who also committed to play for the Blazers which you can read HERE.
• Kade Martin, 6'4" 300 OL Hewitt Trussville High (AL)
• Adrian Posse, 6'4" 225 QB from Miami Northwestern (FL) committed on Tuesday which you can read HERE.
UAB was the first school to extend an offer to Doston in January. In the following months, Doston also earned reported offers from: Boston College, Charlotte, Georgia Southern, Temple, and others. He took unofficial visits to Boston College and Florida International University (FIU) in April.
In 2022-2023, Doston helped lead the Crusaders to a 9-2 record while recording 33 tackles, 4.5 sacks, and an interception.
Blazer Victory co-host and former UAB Blazers center, Darion Smith, provided the following evaluation of Doston:
X's and O's with Darion Smith (@theyDREAD75)

Doston is a long and athletic version of former UAB outside linebacker, Kyle Harrell. He is a dynamic playmaker that excels in pass rush situations but can also defend the run. On film he flashed a nice mix of closing speed and physicality that is desired by scouts at the NFL level.
Want more film evaluation of UAB commits and potential prospects? Check out the Blazer Victory Patreon HERE.
With Doston's announcement, UAB now sits at 8 commitments for the class of 2024:
1. Naccari Johnson, 6'3" 180 DB from Langston Hughes HS (GA)
2. AJ Miller, 6'4" 220 TE from Pickerington HS (OH)
3. Kaiki Baker, 6'3" 195 S from Hillsboro HS (TN)
4. Adrian Posse, 6'5" 225 QB from Miami Northwestern HS (FL)
5. Kelvin Hill, 5'11" 175 DB from Carrollton HS (GA)
6. Kyle Mosley, 6'1″ 280 DL from Cedar Grove HS (GA)
7. Jaden Ligon, 6'5″ 315 OL from Lagrange High (GA)
8. Joseph Doston, 6'4" 230 DE from Tampa Catholic HS (FL)
Checkout Joseph Doston's highlight film HERE from his HUDL.
Link to Joseph Doston's 247 profile HERE.
Help support Blazer Victory by subscribing to our Patreon page HERE. This not only helps support Blazer Victory's continued coverage of UAB athletics but also gets you access to exclusive podcast episodes each month.