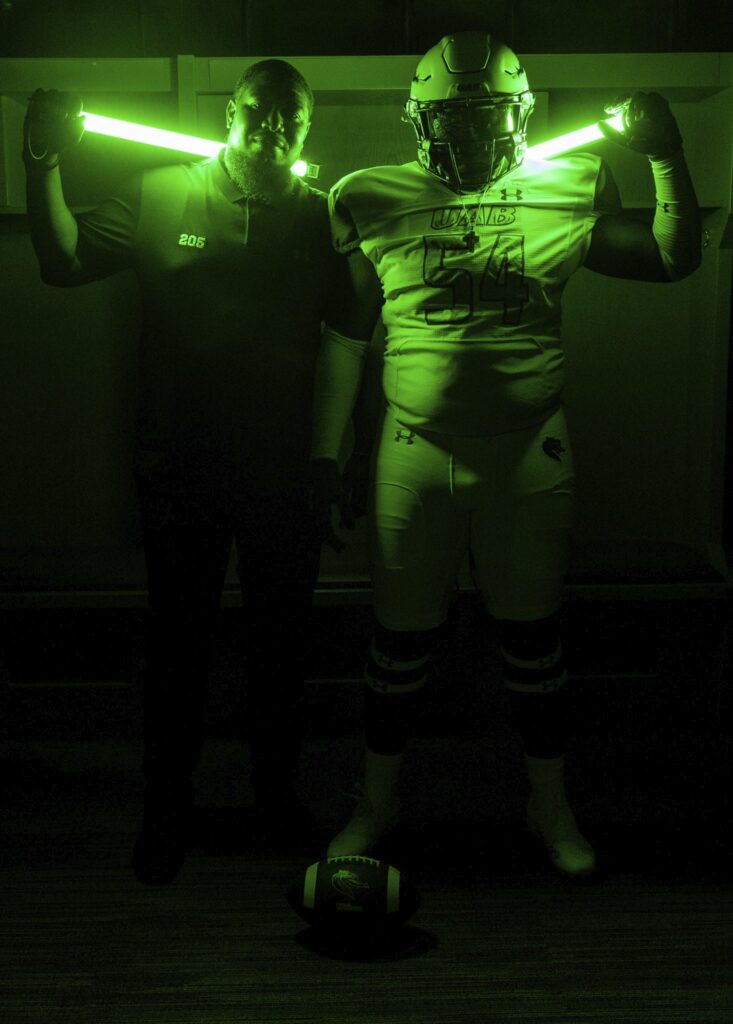 BIRMINGHAM – After informing the UAB coaching staff of his decision earlier this week, Kyle Mosley, a 6'1" 280 pound defensive tackle from Cedar Grove High School (GA), publicly announced his commitment to play for the Blazers on social media earlier today.
Kyle Mosley announced his commitment on Twitter:
Mosley's decision to commit to the Blazers comes on the heels of his official visit to Birmingham this past weekend. UAB's recruitment of Mosley dates back to January when the Blazers were the first FBS program to extend him an offer. In the months to follow, Mosley earned reported offers from: Air Force, Appalachian State, Georgia Southern, Troy, Western Kentucky, and others.
In 2022, Mosley flashed an impressive combination of size and speed on his way to recording 52 total tackles, 10 tackles for loss, 6 sacks, and an interception helping Cedar Grove to an 11-3 record.
Miguel Patrick, UAB's defensive line coach, served as Head Coach of Cedar Grove for two seasons and won a state championship in 2019. Arguably UAB's top recruiter, Patrick signed seven defensive lineman in the class of 2023, six of which had at least one P5 offer. He also played an integral role in the signing of former high school teammates of Mosley, 3-star recruits Ricky Lee (CB) and Everette Roussaw (LB).
With Mosley's announcement, UAB now sits at 6 commitments for the class of 2024:

1. Naccari Johnson, 6'3" 180 DB from Langston Hughes HS (GA)
2. AJ Miller, 6'4" 220 TE from Pickerington HS (OH)
3. Kaiki Baker, 6'3" 195 S from Hillsboro HS (TN)
4. Adrian Posse, 6'5" 225 QB from Miami Northwestern HS (FL)
5. Kelvin Hill, 5'11" 175 DB from Carrollton HS (GA)
6. Kyle Mosley, 6'1" 280 DT from Cedar Grove HS (GA)
Checkout Kyle Mosley's highlight film HERE from his HUDL.
Link to Kyle Mosley's 247 profile HERE.
Help support Blazer Victory by subscribing to our Patreon page HERE. This not only helps support Blazer Victory's continued coverage of UAB athletics but also gets you access to exclusive podcast episodes each month.